I am hesitant to try to word this one.  It is so rare, unexpected and surprising.  We really don't often see ANY New York long bite-plate double rings anymore. They seem to just be impossible to find (except right now apparently).  Most are hacked or damaged if you ever see them anyhow.  Add to that, if we ever found them they are almost always 4-5 tip sizes and just too small for people to want to play now.  They are generally NOT easy pieces to open up and work on due to that long bite plate which many a sweating amateur has cut through before contemplating a nervous breakdown.
This one came to me in rough condition, but with a lot of metal intact. I've done a complete setup on it and it's really a player! The facing stamp was not visible on the table so I am just guessing it was not a very small tip to start with.  That means it was likely a custom order.  It is unlikely it would end up at the tip size of .112 (8+) unless it was made large to start with. This is where I ended up and the tip is not even sharp. The tip also does not appear bent nor shortened. It's just a bit of a freak. The previous owner also had this piece nicely thick and slightly dark gold plated, if which very much is still present.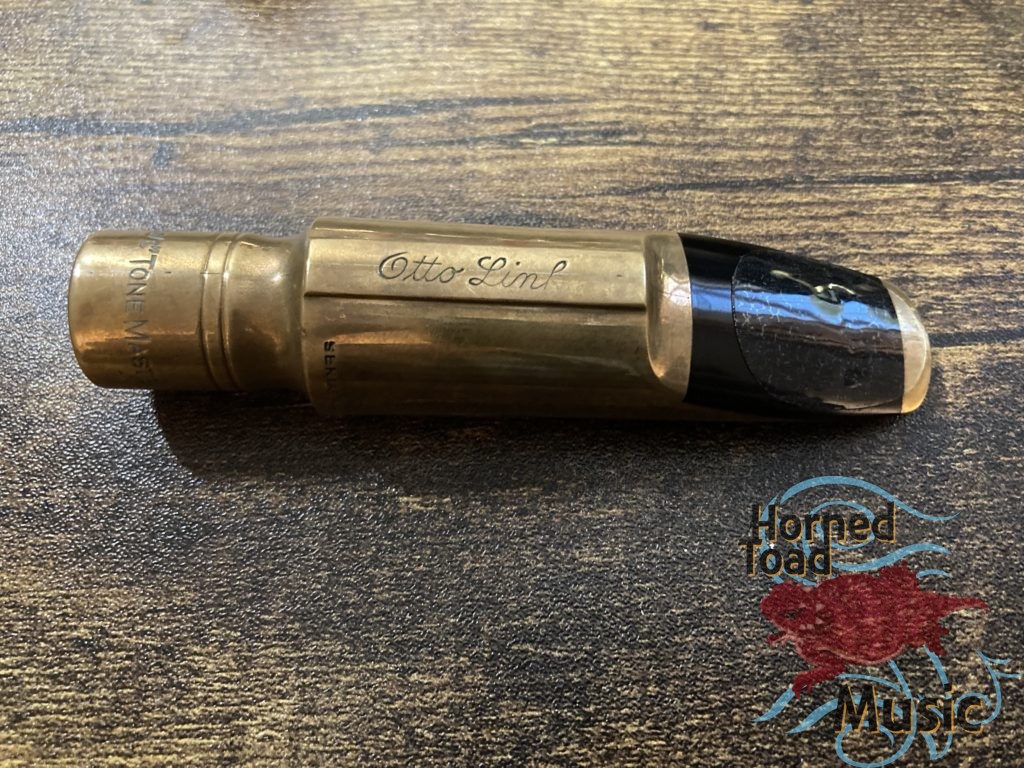 Well, it's a large piece and in the world of larger Links this plays amazingly well, seductive even.  It is very loud, a huge body of sound, a woody organic edgy core, and a colorful complex depth like a living voice.  It's quite a thing.  I totally enjoy this piece and hope it does not get its hooks in me.
I doubt I will see another, and this is definitely among the best of the mouthpiece craft I have ever done.  I hope it goes to someone who can really make great music with it.  Double rings are very expensive for me to acquire now, even if they are totally messed up, so they sell for high prices.  Please expect that this one will be unusually expensive even for double rings as we will never see another and at this size and playability it is totally unique!