This is a truly amazing piece and find, Selmer Tenor MK VI #70xxx in original U.S. engraved gold lacquer that has turned rather dark.  This horn is from the estate of "Count" 'Red' Hastings, (Lowell Hastings).
"Hastings was active in the New York jazz scene from the late 1930s; first recordings were made in 1939 with the Savoy Dictators ("Rhythm and Bugs" (Savoy Records), with Alfred "Chippy" Outcalt, Clem Moorman, Al Henderson and Bobby Plater). In the following years he played with Tiny Bradshaw (1944), Bob Merrill (1947) and participated in recordings of Sarah Vaughan with ("I Cover the Waterfront"). In 1948 he recorded under his own name for the label Gotham the title "Begin the Beguine" and "Candid Yam" on; In another session in the early 1950s with Cliff Smalls, Keter Betts and Shep Shepherd, songs such as "Minor in the Diner", "Diga Digo Doo" and "She's Funny That Way" were created, but initially remained unpublished.
From 1949 he worked with Earl Bostic, Panama Francis, Illinois Jacquet, Lucky Millinder, Bull Moose Jackson, Louis Jordan, Sammy Lowe, Sy Oliver and Louis Metcalf, as well as accompanying musicians of vocalists such as Annie Laurie, Varetta Dillard, Ace Harris, Wynonie Harris , Connee Boswell, Little Willie John, Bobbie & Ronald, Earl King, Big John Greer, Jerry Dorn, Joe Medlin and Jimmy Witherspoon. In 1958, an EP of King Curtis and Count Hastings with Leroy Kirkland's Hi-Flyers: "The Battle for the Beat" (RCA Victor) appeared. [2] In the field of jazz he was involved between 1939 and 1959 in 55 recording sessions. he wrote the number "Salt Lake City Bounce" with Tiny Bradshaw."
(https://de.wikipedia.org/wiki/Lowell_Hastings"
Included is the original trey-pack case in decent condition with a slightly functional zipper, as well as the original case cover (in ratty but fitting condition).  Also included are numerous original photos (showing him playing THIS HORN) as even music arrangements probably used by famous names written in his own hand.  We even have a receipt for an overhaul ordered and signed for by Louis Jordan himself.  This is a treasure trove of thrilling history.
The horn itself is in excellent condition with normal lacquer wear from age and use, scratches and some very minor dings, no serious damage.  The neck shares the original serial number and has a few scratches but structurally it is near perfect and still looking very nice.
** I have finally gotten around to restoring and overhauling this horn; full set of original Tone-X resonators, fresh harder pads, all toneholes dressed, key fitting, minor dings addressed etc. It was actually a rather extensive job even though the horn was not in bad shape at all. The result is a LOT different than I expected, much brighter and more powerful than I imagined.  This had to have been specially chosen, as it is a very uniquely interesting horn. Hear it here:
Hear "Count" Hastings here (check out that tenor sound on the solo on second video, that can only be THIS horn, in those years and with that sound:
*********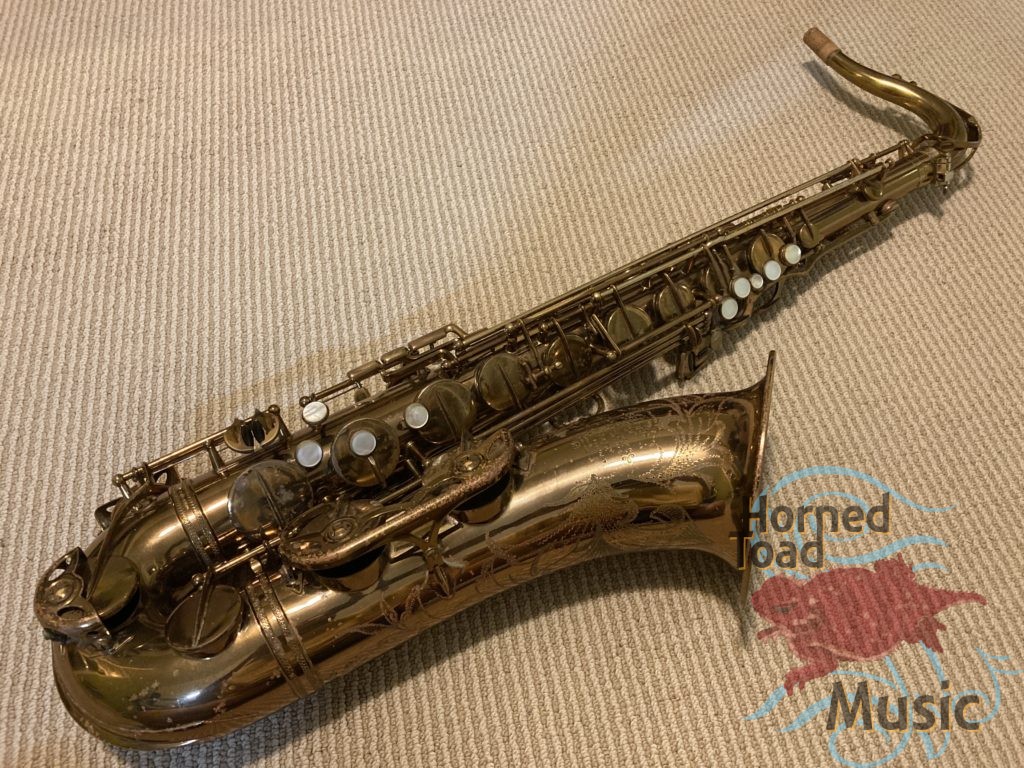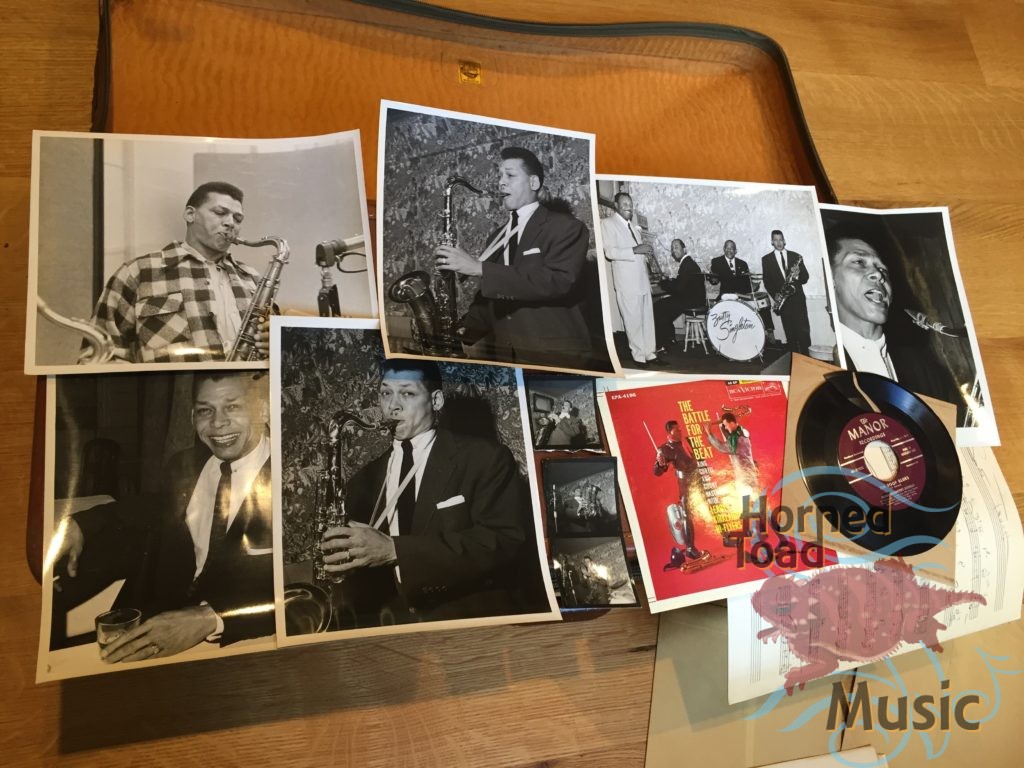 The following photos are before restoration: