I was very luck to be able to purchase this amazing instrument from the estate of Yusef Lateef, along with the paperwork of provenence.  I have some friends in the repair biz who were also around Rayburn's music (in Boston) years back and remembered Lateef bringing this horn around for service more than 30 years ago as well, so we know he kept it for a long time.
This project spanned about two years as some parts of it were slow and time consuming and I was also busy with a move and some family obligations during that time.
It was in a bit of disrepair when I got it, with some kind of odd insults and injuries, but structurally it was in very fine shape.  Somehow, somewhere, the neck receiver had been sheared into three pieces two of which were broken clean off the horn.  The strangest part is that this break, did not effect the body tube in any way, in any area.  It was very straight with only some minor dings, very odd.  I have yet to understand how that happened and never will I guess.  The pads were old and crusty of course, it was not playing.  Some screws were missing or mismatched and it was at least as far as proper saxophone service is concerned, just rather insulted.
In my imagination, I can see Yusef Lateef buying this horn in Europe while on tour and either it already had the broken neck receiver or that happened while in his possession.  I can imagine him thinking "this is one of those special horns that 'Trane was bugging Wayne Shorter to get" (see the interview with Shorter where he tells this story about Trane's insistence on him getting just such an early SBA.) and him keeping it until he can find the right person who could handle the weird repair.
Maybe he knew what a great horn it was, generally I would trust the judgement of instrument quality to Yuself Lateef above almost anyone. I imagine he had to know what a special horn this was to keep it for so many years.
Anyhow with a lot of specific work and time I have finally restored this to very nice working order, it feels like a Ferrari now, set up with rather hard-ish pads and a set of original American-market Tone-X metal SBA resos from the 1950's that I had here.  It just blew my mind as I just played fresh one day after the overhaul, while ti is still settling in.  It is very compact and aggressive in tone, barks, is very powerful and has an otherworldly biting bright ring to the sound that makes it sound like it is amplified.  This is what the rare and great SBA's do.  I was a little rusty on the video but at least it was fresh and surprised me more than you who will watch it I believe.
And here in a less boomy room: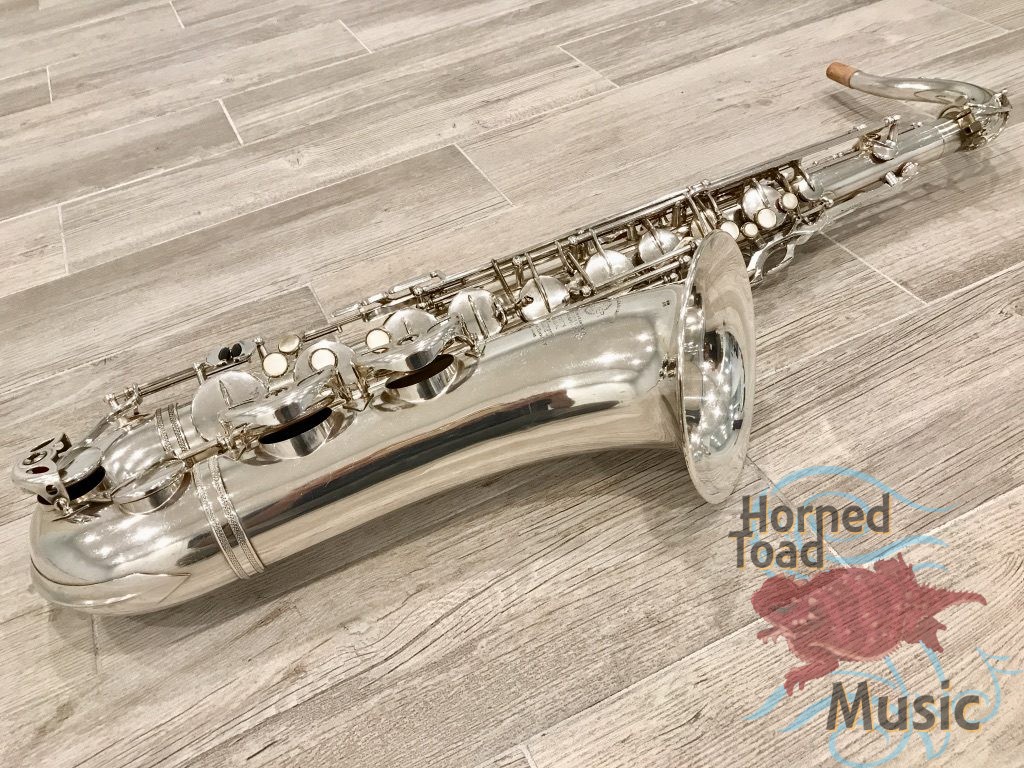 Because this is such a very special instrument, let's have a look at the repair process and the history.  Here are photos when I originally purchased it at the estate's sale of Mr. Lateef's instruments.  We can see only some level of the poor state it was in.  How does an oddly isolated injury like that occur without affecting the rest of the horn?  I have no idea:
Next was the initial phase of repair which was removing, then reassembling, and partially re-fabricating that neck receiver, since such a part can no longer be found, anywhere.  I had help with the fabrication from someone better at that than myself.
That repair came out beautifully, and next was reassembly.  I was very excited about the perfect natural neck fit once I reattached the repaired receiver.  I prefer the neck to seal perfectly without any screw tightening, which is something those who's horns I have set up know about.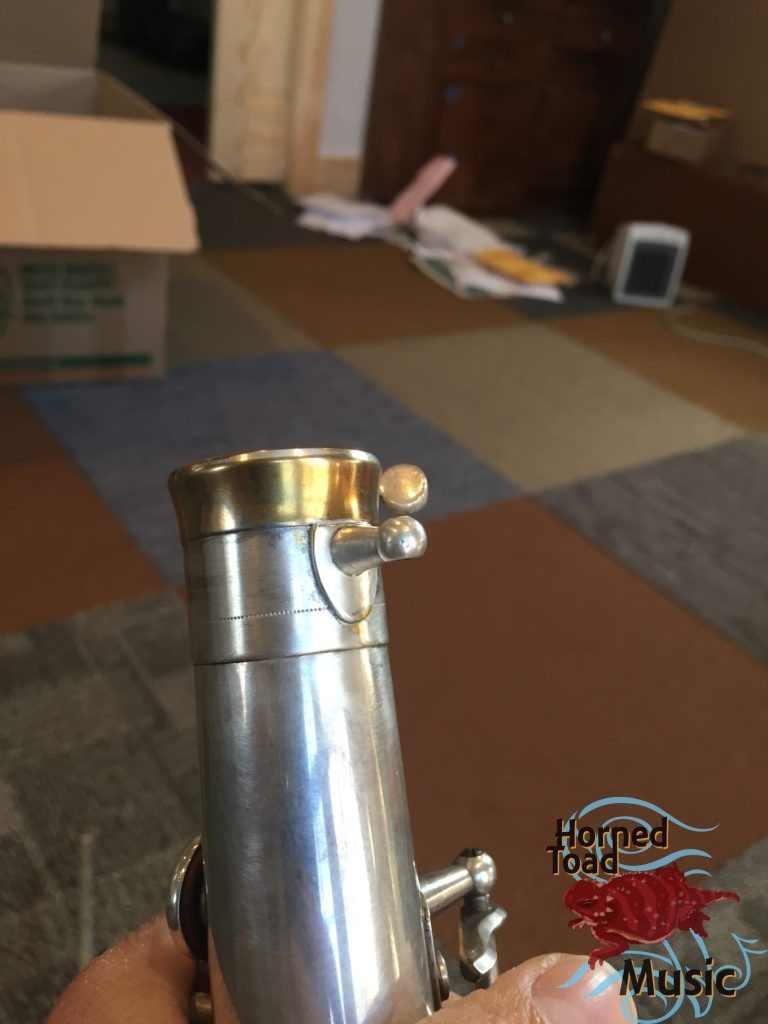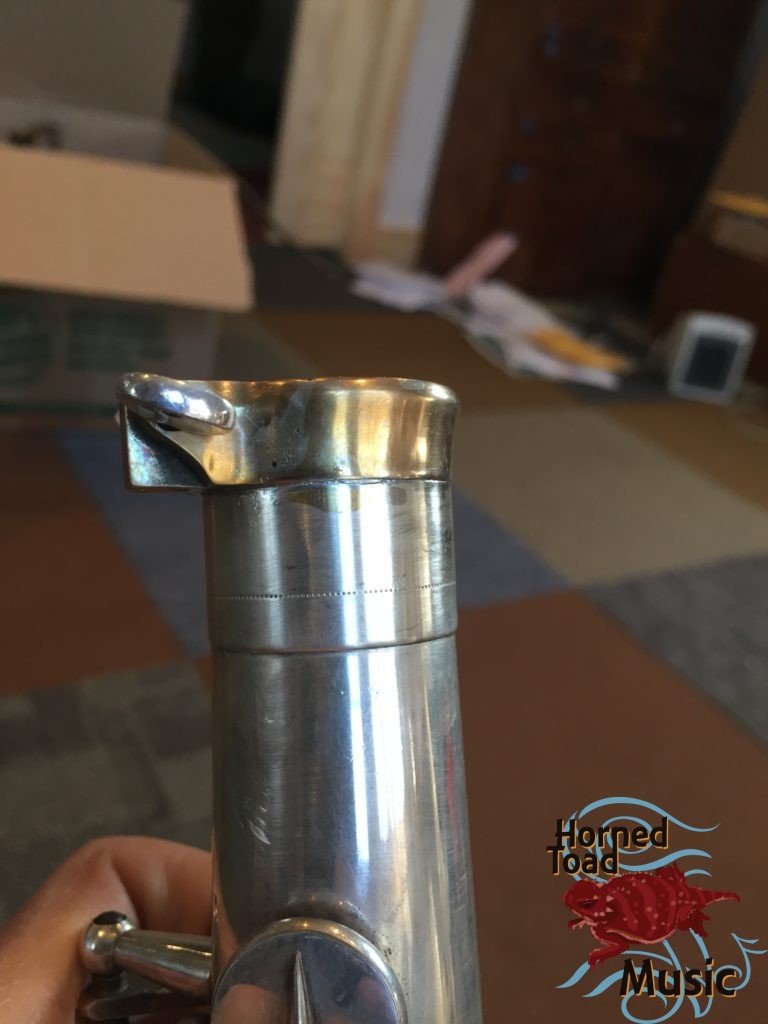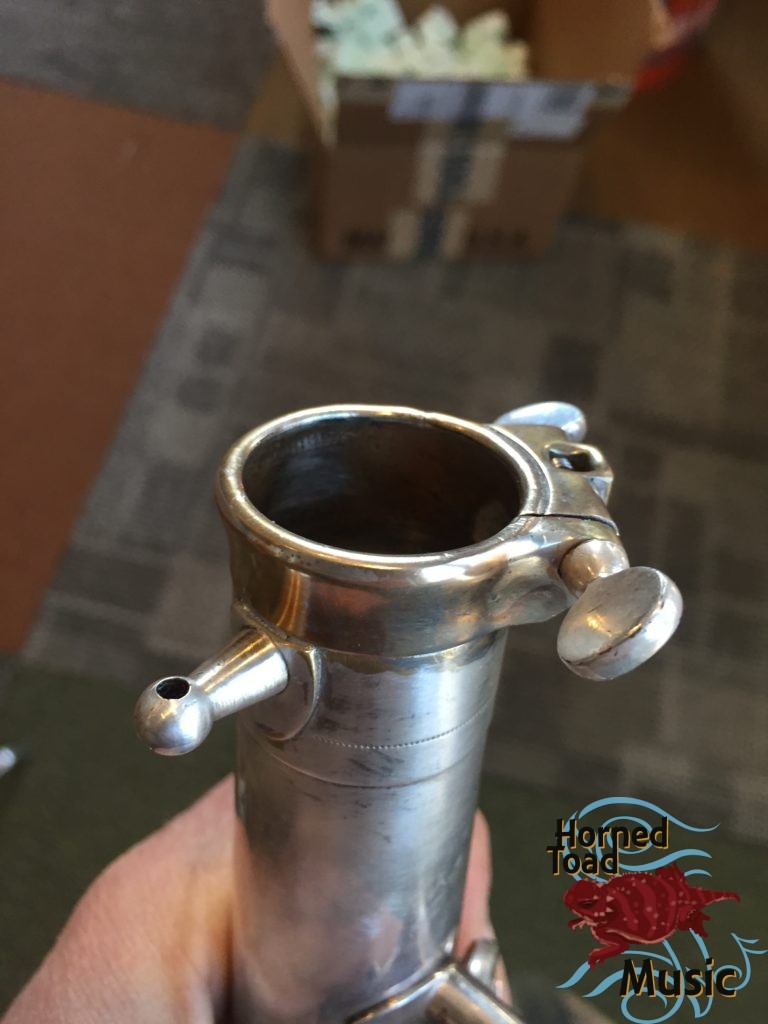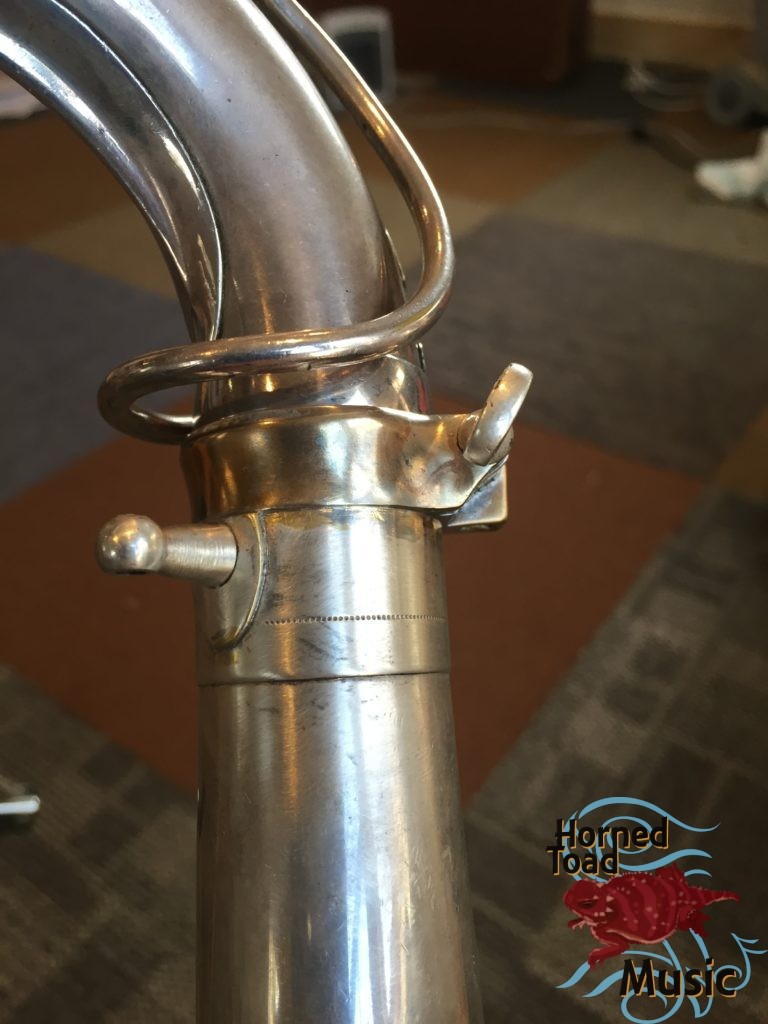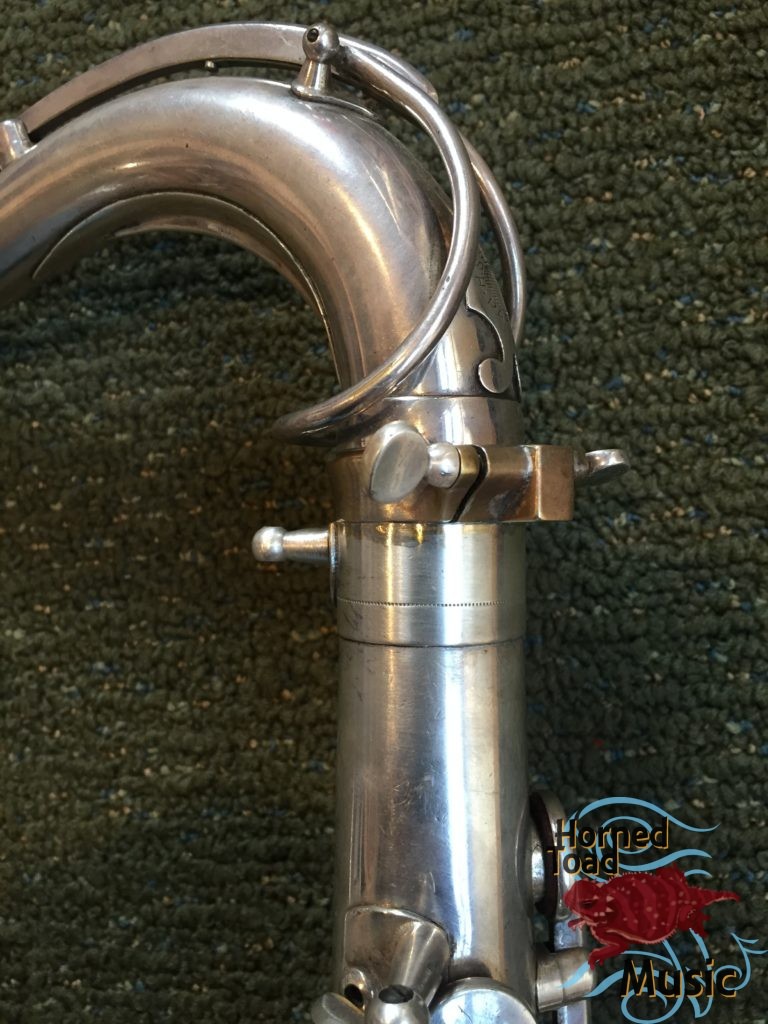 Next step was disassembly and bath time:
Then Of course being a European market Selmer the bow to body joints are usually not soldered.  This one was not a surprise, but the strange blue gasket material in the joint was.  I have my doubts that this was original 1950 gasket material, but perhaps someone's later attempt to seal the joint.  I would not have noticed but it looked like there was a blue thread hanging into the body of the horn, which was.. unusual.
These horns can play very well without a soldered joint here and to solder it does run the risk or burn so I would not be excited to do it on a mint original lacquered example, but in this case it was the preferred course.  It will generally give such a horn that extra 5% of great vibes.  In this case, to honor the previous owner and the quality of the horn as a player it had to be done.  It sure did work nicely.
Upon looking at these old photos I think the solder actually was done before the bath, still looks kinda grungy there.
Finally, the long multi-faceted processes of leveling toneholes, metal-work, aligning, straightening, key fitting & leveling, then resonator/pad assembly, setup and regulation.  This was a long project, and so well worth it.  The first play test shook me!  Thanks for reading!