Update!
This restoration icomplete.  Scroll to below for full restoration photos and check back for ongoing updates!
As found:

Restored:

Original article (pre-restoration):
This just came in here and required immediate photographing.  An original intact Selmer Balanced Action is a very very rare creature.  This particular horn has had no significant damage or alteration, has original pads and is basically a used version of exactly as it came from Selmer in the 1940's.
This has as well, the original Selmer case, the first version of the trey-pack design, with original keys and "Balanced Action" tag as well.  The original "table B" mouthpiece is also in mint condition.
The horn obviously has some wear and some more on the left side, but there are really very few original examples to be found anywhere at this point, especially with American engraving pattern and lacquer.  I have not played it yet, requires some key adjustments and it will surely be a moldy experience with this old pads but I am curious.  It will need a full restoration but It is sure to be great.
What a feast for the eyes!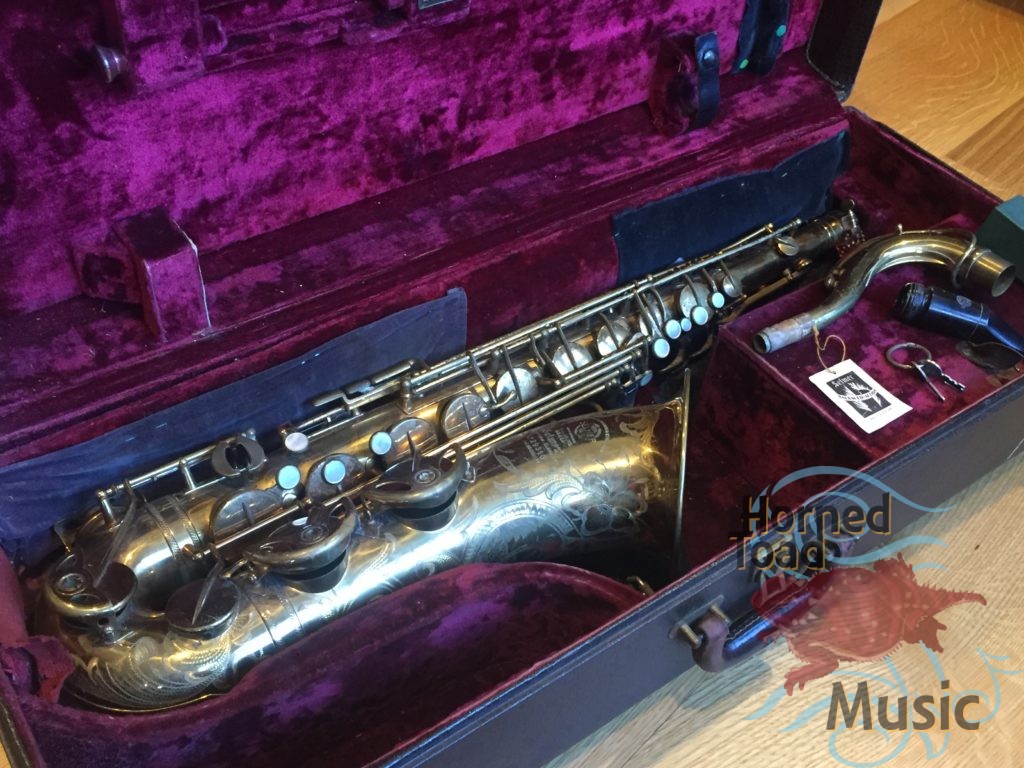 Below are the ongoing restoration photos showing most of the stages involved for this particular project.  What I did not show was the dent/brass work that I initially did before any of the photos shown.  This horn has no major damage at all but a series of small but annoying dings in the bow and back which needed smoothing.  Then next was the repair for the detached bell brace and onward:
Prior to primary pad seating I decided to check the neck fit again.  I had already done a basic neck fitting and was surprised at how little alteration is required.  Most neck tenons on horns from the 1960's already need plenty of resizing and they are made of thicker walled brass anyhow.  This horn being from around 1940 would naturally require a bit more than it seemed to, so I checked again and while I was at it, I checked the receiver tightening flange for the common Selmer problem of broken solder joints at this point and of course it was broken.  The flange was detached from the collar and therefore tightening the neck screw bent the flange (which was now sliding around under the pressure) inward, applying uneven pressure to the neck tenon causing a number of long term problems and the immediate problem of not having a proper seal at the neck receiver.
As beautiful and original as this horn was, to be a real player this was an absolute necessity to repair.  Upon removal it is obvious that the solder joint had failed at least half way around the receiver and the sleeve was detached on both sides of the slot. Although this repair leaves a visual scar it makes for a great playing horn, which is the respect this instrument deserved.
******************